Pretty fucking amazing that after 400 of 500 years of "serious" Earth sciences (meaning A LOT!) there is now a remarkably strong consensus (this is exactly the same thing I learned back in the 1980s in my Surficial Earth Processes coursework) that all the pedos on Earth can be meaningfully subdivided into a typology like this: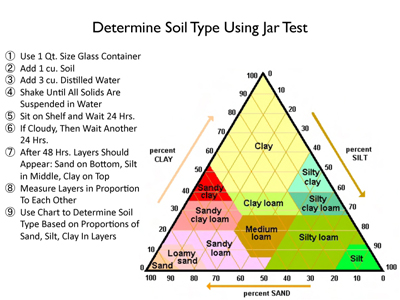 I had pretty much forgotten how clay differs from silt, but it quickly all came back to me with just a
couple clicks on Wiki . . .
Quote:
Silt is granular material of a size between sand and clay, whose mineral origin is quartz[1] and feldspar. Silt may occur as a soil (often mixed with sand or clay) or as sediment mixed in suspension with water (also known as a suspended load) and soil in a body of water such as a river. It may also exist as soil deposited at the bottom of a water body, like mudflows from landslides. Silt has a moderate specific area with a typically non-sticky, plastic feel. Silt usually has a floury feel when dry, and a slippery feel when wet. Silt can be visually observed with a hand lens, exhibiting a sparkly appearance. It also can be felt by the tongue as granular when placed on the front teeth (even when mixed with clay particles).
Origins from quartz and felspar!? NO SHIT!? I did NOT know that!
. . . so what about clay? I do remember that clay is very "platty" (??)
Quote:
Clay is a finely-grained natural rock or soil material that combines one or more clay minerals with possible traces of quartz (SiO2), metal oxides (Al2O3 , MgO etc.) and organic matter. Geologic clay deposits are mostly composed of phyllosilicate minerals containing variable amounts of water trapped in the mineral structure.
But waitaminute . . . both quartz and feldspar are primarily composed of silicon aren't they? . . . Ahhh, right so
"Phyllosilicates"
are a very distinctive family, and the fact that all they are silcon based is not the salient distinction . . .
Quote:
Phyllosilicates (from Greek φύλλον phyllon, leaf), or sheet silicates, form parallel sheets of silicate tetrahedra with Si2O5 or a 2:5 ratio. The Nickel–Strunz classification is 09.E. All phyllosilicate minerals are hydrated, with either water or hydroxyl groups attached.
Kinda fucking wild that a 'mineral' can be "hydrated" eh?
OKAY, back to Substance Designer!