EUBanana wrote:
nero wrote:
So there was no Keynesian policies applied 2001 that leaded to the collapse of 2008.

Anyway nice to discuss with you.

I left enough things open for you. Like the bailouts, austerity and stimulus in various countries. And if you are curious, I can tell you what events and policies left Finland with 20% unemployment rate 25 years ago.

Your turn.
Not many surpluses there. Only debt debt and more debt.
You can see as far as the UK is concerned the slight 2001 slowdown was met with more spending. And that has been the situation ever since. Even reigning in the deficit of 150 billion a year (Bear in mind UK government spending is ~750 billion so clearly a deficit that large is completely unsustainable) has led to howls from the left about 'austerity'.
Clearly it's simply politically impossible to practice Keynesianism. There's probably another crash coming now, certainly we're due for one roughly, and where's the money saved up from our surpluses? Ho ho ho, there isn't any.
I'm not even talking about whether it works. It's a bit like global warming, it doesn't matter if it's happening or not because there's nothing we can do about it here in the West. In the same manner, there's no point really talking about Keynesianism because it simply cannot be implemented. Politicians are far too short term and far too prone to give the baying left wing what they want, ie ever more money.
You could have selected a smaller image. Even I have do some horizontal scrolling with my 2560x1600 monitor have to do some horizontal scrolling. And Doggie with his VGA resolution monitor will be ape-shit with the image.
And it is true that Keynes didn't formulate explicitly policies for the economic up-turn. He concentrated more on the idea that during a recession the state should concentrate to avoid contraction of the economy by maintaining demand by government projects. You seem to agree with the idea, in theory.
The problem with your, way big image, is that it give absolute numbers, not numbers as relative to the GDP. And this is very important and essential. With austerity the GDP can contract and so the the debt burden can be even bigger. I thing that you can understand even this. Perhaps.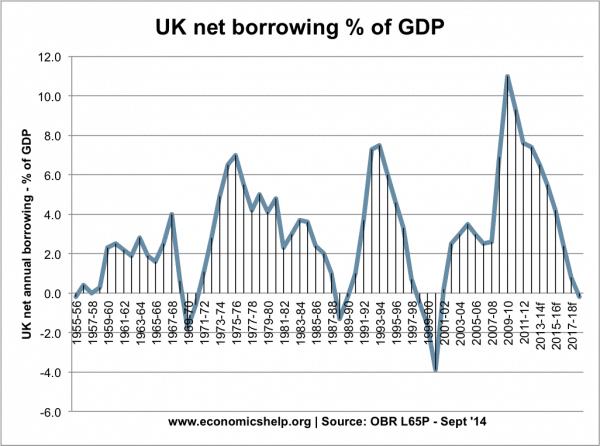 The growing economy reduced the debt proportion after the WWII. Even having budget deficit and and financi social programs like the NHS.
But you are right that it is a very seldom when a government actually reduces the public debt in actual volume. During the up-turn the growth reduces the debt ratio. As seen in the graph above after the WWII.
And the Blairite, zanu-labour years don't look so bad in comparison.
I admit that I am kind of Ordo-Keynisian, who will spoil the party of the up-turn. No tax cuts during an upturn, no unnecessary programs even the coffers are full. But then I am not a politician, but more mathematically inclined. If you borrow, you pay it back. Too much reading about Joseph in Egypt and advising the Pharaoh.
But in a democracy it is politically next to impossible to reduce the debt in absolute numbers.
But it is possible.
But my biggest problem with the idea that the growth will handle the deficit is that I have doubts about continuing growth in a closed system. But then the human inventiveness is not yet capacity limitet and there is new generation of AI coming.
We are living in interesting times.