This is so insane...
Trump Illegally Tearing Up Important Documents Is Perfectly Stupid
His pointless and impulsive habit explains so much about his presidency.
Jun 12 2018, 1:14am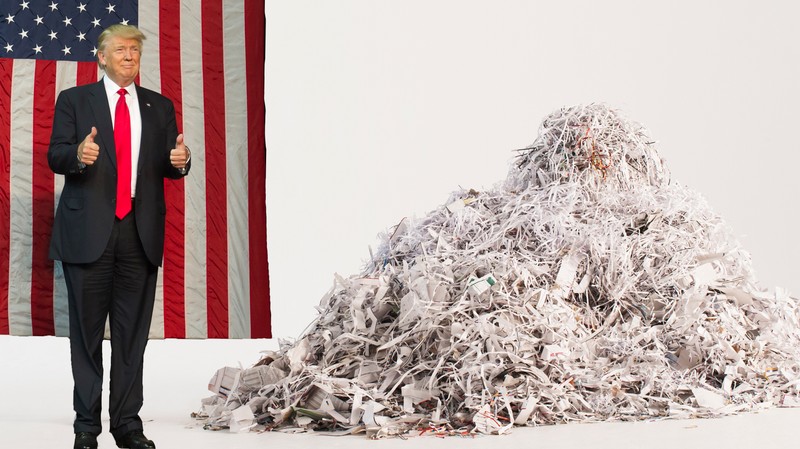 On Sunday, Politico
published
a story that is the most obvious and perfect metaphor for Donald Trump's time in office. According to former officials, the president has a "tendency to rip up documents he is legally required to preserve," and government employees are forced to tape them back together.
"I had a letter from Schumer—he tore it up," Solomon Lartey, a former career government official who was fired abruptly in March for reasons that remain murky, explained to Politico. "It was the craziest thing ever. He ripped papers into tiny pieces." Lartey and his team would spend their days using scotch tape to reconstruct the destroyed documents. (Records staffers were apparently still doing this labor this spring.)
The Presidential Records Act requires the White House to save any papers that the president touches and send them to the National Archives. But Trump has a longtime habit of tearing up paper once he's done with it and "White House aides realized early on that they were unable to stop Trump from ripping up paper after he was done with it and throwing it in the trash or on the floor," according to Politico. Because our 71-year-old president refuses to change his behavior, which is literally illegal, the White House employs a team of record management analysts to simply tape up the documents he destroys.
This is just another banal piece of news from the White House reminding us that Trump is a reality TV buffoon behind the scenes as well as in front of the cameras. Though this one is more on-the-nose than most of these stories, the message is always the same: The rest of the country is going to be left to clean up the mess he's making.
...
More tape to the White House.
Nixon tapes, and now Trump tapes.
Waiting to see how Hucka San will explain this one.