I don't like the idea of politicizing the Hurricane thread, but others are already attempting to politicize the hurricane(s):
Quote:
On CNN, political analyst John Avlon, in a segment titled "Reality Check," suggested Trump is at fault for Hurricane Florence, and that his climate policies could kill up to 80,000 people per decade.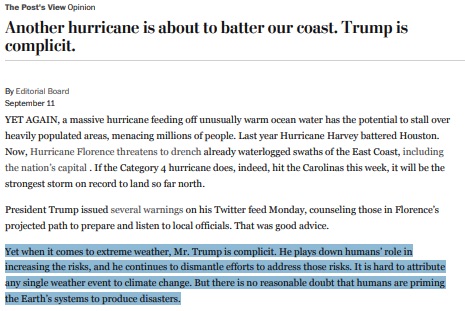 Quote:
Back on MSNBC, host Katy Tur invited on media personality Bill Nye and former director of communications for President Obama's White House Climate Change Task Force, Paul Bledsoe, to setup Trump as the fall guy for Florence.

Tur introduced the segment claiming "climate deniers" in the Trump Administration make it "incredibly difficult to deal with this disaster."

"President Trump says FEMA is ready for Hurricane Florence but mounting evidence suggests it could be incredibly difficult to deal with this disaster if climate change deniers are on the front lines," Tur said. "A new study from the Princeton University is echoing the findings of previous research showing climate change as the cause of ocean conditions that produce fast storms like Hurricane Harvey. NOAA is suggesting it's 3 degrees Fahrenheit above average. Where does the Trump Administration stand on climate change? President Trump rolled back Obama era mandates for leaks and oil and gas wells. These rules were part of Obama's three part strategy for combating climate change."

After Nye attacked anyone who "continue[s] to deny climate change" for undermining America's ability to respond to extreme weather, Bledsoe leveled an even sharper political attack against the Trump Administration.

"Donald Trump and other Republicans are denying climate change are on the wrong side of public safety, of economics and of history," Bledsoe intoned. "This is not an environmental issue fundamentally. It's one of public safety and economics and unfortunately, we're going to see more and more of these extreme, costly and threatening-to-public-health-and-safety events until we begin to reduce our emissions."
Those snippets above from:
https://news.grabien.com/story-media-po ... ct-mass-de

_________________
The American Republic will endure until the day Congress discovers that it can bribe the public with the public's money.
- misattributed to Alexis De Tocqueville



No representations made as to the accuracy of info in posted news articles or links