wulfir wrote:


Can some Yanks explain this video, maybe...
The Navajo Code Talkers were a group of Navajo Indians (PC term Native Americans) who served in the US Marine Corps during WW2. The Japanese had been intercepting radio communications the Marines were sending out. And they were able to break the code words the Marines were using as well. The Navajo language is a complex language and at that time it was still an unwritten language. The a simple set of code words was created but since the Navajo language they were using was unknown to the Japanese (and unwritten so that it could not be referenced from existing books) its proved useful in relaying orders over the radio during battles.
You can read up more about code talkers here:
https://en.wikipedia.org/wiki/Code_talker
Here is a short video concerning their actions during the war:
There was also a movie with Nicolas Cage that was loosely based on the code talkers:
The purpose of the meeting at the White House was to honor the Navajo Code Talkers. Those Native Americans there had served during WW2 as Code Talkers.
So Trump was giving them praise and honoring them in the video.
Now, about the "Pocohontas" comment.
A US Senator, Elizabeth Warren, ran into some issues some years ago. From the 1970s through the 1990s she was an academic who worked at a number of different universities. In 1992 she worked a year at Harvard University as a Visiting Professor. In 1995 she joined Harvard as a professor there at Harvard Law School.
Quote:
No proof has emerged that confirms that Massachusetts Sen. Elizabeth Warren is, as she has claimed, part Native American. Likewise, no proof has surfaced that Warren was previously hired as a professor by any university based on her alleged heritage.

The subject of Warren's ancestry came to national attention in April 2012, when she was a candidate trying to unseat then-Sen. Scott Brown, the Republican incumbent.

The Boston Herald reported that Warren had previously been touted in the 1990s by officials at Harvard Law School, where she was a tenured professor, as an example of the faculty's diversity. That led to the revelation that Warren — citing only anecdotal evidence — claimed to be part Cherokee and Delaware Indian, and had listed herself as a minority in a directory of law professors from 1986 until 1995.

Brown and others then accused Warren of claiming to be a descendant of American Indians to advance her career in academia, which Warren has repeatedly denied doing.

"Let me be clear. I never asked for, never got any benefit because of my heritage," Warren said in a 2012 TV ad rebutting claims made by Brown.

The controversy resurfaced after President Donald Trump — as he had done before — referred to the Democratic senator as "Pocahontas" during a Nov. 27 ceremony at the White House to honor Navajo code talkers from World War II.

Our readers have been asking about Warren's lineage and career ever since.

As we said, Warren has provided no actual documentation to substantiate her claim of having Native American blood.

Warren, who was born and raised in Oklahoma, has said that her parents and grandparents, who are now deceased, were the sources of that information.

"I am very proud of my heritage," Warren said at the time, according to news articles. "These are my family stories. This is what my brothers and I were told by my mom and my dad, my mammaw and my pappaw. This is our lives. And I'm very proud of it."

In that 2012 campaign ad, Warren said that her parents had to elope because her father's family didn't like that her mother "was part Cherokee and part Delaware."

At one point, Christopher Child, a genealogist at the New England Historic Genealogical Society, said that he had discovered possible supporting evidence. The Boston Globe reported that Child found a newsletter that indicated that Warren's great-great-great grandmother had been listed as Cherokee on a marriage document in 1894. That would make Warren 1/32 American Indian, he said.

But the Globe later noted in a correction that neither the newspaper nor the genealogical society had seen the alleged primary document, only the family newsletter alluding to it.


http://www.factcheck.org/2017/12/elizab ... ntroversy/
From other sources that I have read in the past she passed herself off as part Native American, and IIRC, Harvard had been criticized for their lack of minorities in their staff. So when Harvard found out that she was part Native American they were only too happy to emphasize this. I don't think its been proven that she was hired based on her alleged "minority" status, but Harvard played it up, and Warren seemed to play along with it as well. She contributed what she claimed was a family recipe to a cook book that Harvard put out, supposedly made up of Native American recipes.
Here is a photo of a copy of the book that she autographed: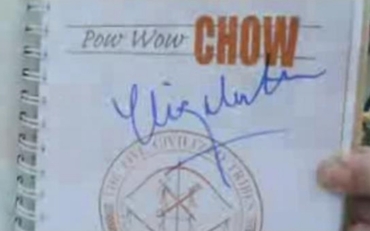 Some have even claimed that the family recipe that she contributed was actually from some well known restaurant.
You can read more about that here:
https://www.steynonline.com/8279/washington-redskin
So when she ran for Senate in 2012 this popped up as an issue:
Quote:
In April 2012, the Boston Herald sparked a campaign controversy by reporting that from 1986 to 1995 Warren had listed herself as a racial minority in the Association of American Law Schools (AALS) directories, called the AALS Directory of Law Teachers.[64] Harvard Law School had identified Warren as a "woman of color", in response to criticisms about a lack of faculty diversity.[64][65][66]

Scott Brown, her Republican opponent in the Senate race, accused Warren of dishonesty, speculating that she had fabricated Native American heritage to gain advantage in the job market.[67][68][69] Former colleagues and supervisors at universities where she had worked stated that Warren's ancestry played no role in her hiring.[65][66][69][70] Warren stated that she had listed herself as a minority to meet people of similar heritage, and was unaware that Harvard had listed her as a woman of color.[71] Her brothers defended her, stating that they "grew up listening to our mother and grandmother and other relatives talk about our family's Cherokee and Delaware heritage".[72] In her 2014 autobiography, Warren stated that she had gained no career advantage from her heritage, and described the allegations as untrue and hurtful.[73] Genealogical investigators could not find proof that Warren's ancestors were or were not Native American.[69][74][75] The Oklahoma Historical Society said that finding a definitive answer about Native American heritage can be difficult because of intermarriage and deliberate avoidance of registration
https://en.wikipedia.org/wiki/Elizabeth ... 2_election
Somewhere along the line someone assigned her the nickname "Pocahontas" as a negative term for her being a fake Indian.
Pres. Trump has criticized Warren in the past and used the Pocahontas term.