Idea is to separate discussion of shooting and firearms from discussion of "Gun Legislation". We will still use the "Gun Legislation" for major news in that area, but for pure shooting and firearms discussions, we can try this thread. Chi and Joe discussed various options and this option seemed to be the most agreeable.
So, here is my first report from last night.
==
2013-11-16
2000 Full Moon, partly cloudy,
wind initially while at 50yds, 3-8 mhp SW, I am shooting NNW.
wind at 100yds 5-15 mph SW, I am shooting NNW.
As I was riding to the shooting area in the buggy I spotted two Coyotes running from our creek up a ridge. I was rolling with lights out, the Coyotes were skylined briefly on the ridge at about 150yds. I pursed but did not catch sight again.
Was shooting 7.62x51 DM18A1B1 German plastic training ammo. This is 10 gr, 4000 fps.
My night vision is due back Monday, and low winds are forecast for Monday night, so trying to prepare, confirm zero etc.
Firing Sig716 7.62x51 NATO (.308WIN) with Lp 3.5x-10x40 M2 Ill Ret and Harris bipod. Mounted 2000 Lumen Tac light. Also tried new PR Tripod for the first time.
I could see the target at 50yds with no tac light as the moon was full.
Fired 2 rounds at 50yds first one on right side of paper, I held over half a moa and was high center for second shot. These two rounds were fired from tripod standing. I used the lowest setting of the Ill Ret and could still see the target. Magnification was on 3.5x. This was the first time I had used the Ill Ret to advantage. I was unable to see the reticle without the illumination. On the other hand, had I tried to use any illumination setting other than the lowest possible, I would not have been able to see the target. As it was I aimed at the target with the center of the reticle off the target and then moved the reticle to the spot I wanted just before firing. I could not see the center dot of the target.
Moon obscured by clouds after second round at 100yds, also as wind picked up, my purpose of trying to confirm zero at 150yds with this light ammo, would not be meet, so I did RTB. I will just be ready to go out and shoot whenever the wind is low enough, until I think I am zeroed.
Here is pic of target: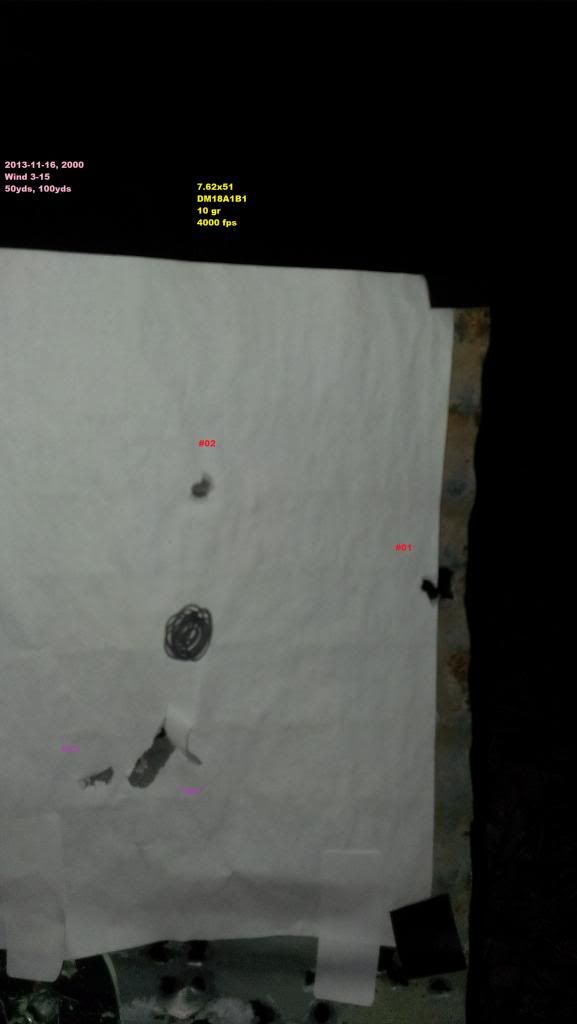 Here is pic of rifle: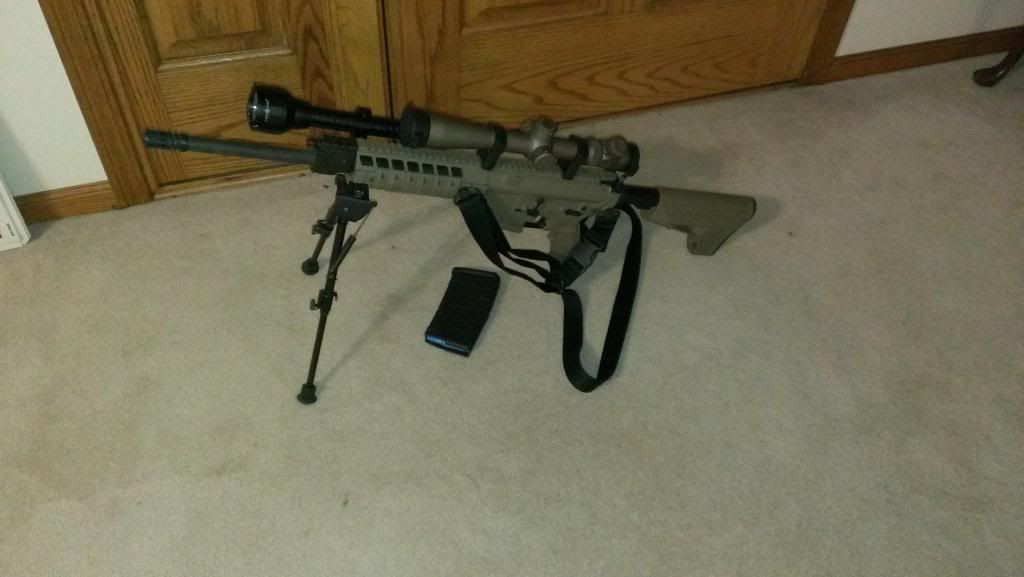 recap of "firsts" for this exercise:
01 - Saw two coyotes at night
02 - No lights or NV used for firing or navigating. Except for my 3 lumen red pocket light used to patch targets before shooting and the reticle illumination, no light or NV were used. Oh my phone camera flashed when I took the target pic.
03 - PR Tripod used when unable to see over grass. I had been firing from back of buggy, but buggy is too unstable in wind (rocks back and forth).