Top Labour figures 'interfered' in anti-Semitism disputes
25 minutes ago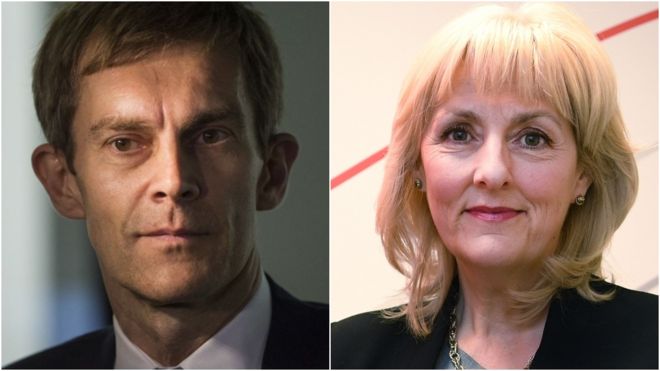 Seumas Milne and Jennie Formby have been accused of interfering in the disciplinary process
Senior Labour figures have interfered in the disciplinary process of dealing with accusations of anti-Semitism, ex-party officials have told the BBC's Panorama.

Seumas Milne, one of Jeremy Corbyn's closest aides, told officials the party was "muddling up political disputes with racism" and must review processes.
And General Secretary Jennie Formby attempted to interfere in who sat on a panel examining a high-profile case.
Labour said there was no interference.
Instead, it said the former staff making the claims were "disaffected".
But Sam Matthews, the party's former head of disputes, said he interpreted an e-mail sent by Mr Milne - the Labour leader's communications chief - in March 2018, calling for a review into how complaints were handled, as "an instruction".
Mr Matthews is one of eight former Labour officials - seven of whom worked in the party's Complaints and Disputes Department - who have spoken to Panorama about their experiences of dealing with anti-Semitism cases.
They claim:
The leader's office was "angry and obstructive" when it came to the issue
Officials brought in by Ms Formby "overruled" disciplinary decisions and "downgraded" punishments to a "slap on the wrist"
Mr Milne laughed when advised by a long-serving party official about what Mr Corbyn should do to tackle anti-Semitism in the party
On one occasion, Jeremy Corbyn's office ordered batches of anti-Semitism complaints to be brought to his Commons office for processing by his aides
Four chose to talk publicly despite having signed non-disclosure agreements (NDAs) with Labour not to discuss any aspects of their work for the party.
Louise Withers Green, a former disputes officer, left the Labour Party after being signed off with depression and anxiety.
She had signed an NDA so she did not have to work her notice period, but despite that spoke to the programme, saying she wouldn't "be able to live with myself unless I speak up about the horrendous things that I know have been happening".
The party has been engulfed by a long-running dispute over anti-Semitism within its ranks, which has led nine MPs and three peers to leave the party.
The leadership has been accused of failing to get to grips with the problem, with allegations of hundreds of complaints against members remaining unresolved.
BBC Panorama spoke to more than 20 former officials as part of its investigation - Is Labour Anti-Semitic? - which will be broadcast at 21.00 BST on Wednesday.
They allege that they had to deal with a huge increase in anti-Semitism complaints since Mr Corbyn became leader in 2015.
Labour's disputes team is supposed to operate independently from the party's political structures, including the leader's office.
Labour's disputes team is supposed to operate independently from the party's political structures, including the leader's office.
And by "independent" they mean that the party leader will downgrade punishments and the leader's aides will investigate those complaints.